Exclusive P.A.R. 13 GOLF OUTING SERVICES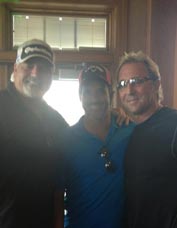 Enjoy a Round of Golf with a Player Alumni Resources Team Member

Have Alumnus Green Bay Packers players complete your foursome or participate in your corporate or charity golf outing. Hear tales of our Legends of Lambeau Field while out on the links, and bring home memories, autographs, and wisdom from these motivational speakers to last a lifetime!
Our Player Alumni Resources team members will engage your groups as they combine their passions for football and golf to create special experiences for you. Our members are happy to answer all guests' questions, as well as sign autographs for everyone in attendance. Each accomplished public and motivational speakers in their own right, our team members can be easily encouraged to share their personal insights into some of their fondest memories as they join your golf foursomes, including personal memories about their football-legend teammates and their spent representing the Green and Gold on Lambeau Field.
The Alumni of your choosing will golf 18 holes, take photos, and sign autographs to ensure your golf outing is a truly memorable one. Your golf date can be further customized to include lunch or other activities upon request.
Create an Unforgettable Golf Outing
Allow Player Alumni Resources to coordinate Alumni to participate in your corporate, charity, non-profit, or local golf event. A touch of "celebrity" may be just the thing to promote interest in your golf event!
Enjoy a Unique Corporate Golf-and-Learn Event
Player Alumni Resources partners with Inspired Institute Inc., to coordinate Golf-and-Learn™ Events for corporate teams, departments, or workgroups. These include corporate training events in the morning and golfing in the afternoon. For example:
Leaderhood® co-facilitated with Green and Gold Alumni is taught for mid to upper-level leaders in the morning, and then our Player Alumni Resources team members golf with the workshop participants in the afternoon.
MBTI®-based workshops are tailored for any employee level, leadership level, or intact workgroup in the morning, and then the workshop participants golf with our Player Alumni Resources team members in the afternoon. Additional custom challenges are designed and incorporated into the afternoon golf outing upon request.
For more information regarding our exclusive P.A.R. 13 services or to schedule a golf outing, complete our Contact form and a member of our team will contact you within two business days.
Golf Date with Chris Jacke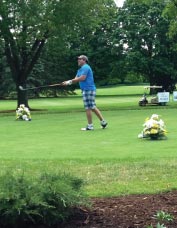 Our signature Golf Date with Chris Jacke service has been established for the sole purpose of allowing you or your foursome to have direct access to Super Bowl XXXI Champion and 2013 Green Bay Packers Hall of Fame Inductee, Chris Jacke. Chris is the perfect addition for your round of golf as his insights, observations, and stories from his playing days at Lambeau Field with the Green Bay Packers will make your day a day to remember.
Enjoy Chris' easy going charm, professionalism, and witty sense of humor while he explains how he achieved the records he holds and whether his mullet was ever supposed to be a fashion statement!
So, whether it is just you, your foursome, your golf scramble event, or a gift experience for a friend or colleague, Chris will make a great addition to the day's round of golf. This package is absolutely ideal for fundraising events, charity events, church fundraisers, corporate retreats, and more!
To schedule your Golf Date with Chris Jacke, complete the Contact form or email Chris Jacke directly at chris@playeralumni.com.